ThePoultrySite Quick Disease Guide
Contents of Quick Disease Guide
Malabsorption Syndrome, Runting/Stunting
Introduction
A condition of chickens and turkeys that may be associated with several different viruses, for example enteroviruses, enterovirus-like particles, reoviruses, rotavirus etc. It is suspected that these viruses can be vertically transmitted and the most severe signs in young birds are associated with this. Diarrhoea in older birds may be an effect of on-farm infection. The condition has been seen in Europe, North and South America and Australia. Poor management may contribute to the problem.
Signs
Uneven growth.
Stunting (temporary).
Runting (permanent).
Poor feathering.
Abnormal feathers ('helicopter wings' 'yellow-heads').
Diarrhoea.
Pale shanks in corn- (maize-) fed birds (often associated with orange intestinal contents and/or faeces).
Eating faeces.
Post-mortem lesions
Enteritis.
Pancreatic atrophy/fibrosis and pancreatic atrophy (rather variable).
Pot-bellied appearance.
Sometimes osteomyelitis and/or rickets.
Diagnosis
Pathology, direct electron microscope examination of intestinal contents. Poor early management (feed and water supply, temperature control) may lead to a similar picture in the absence of specific infection.
Treatment
Daily cull of affected birds between 14 and 28 days.
Prevention
Good broiler farm hygiene, good parent nutrition and egg selection and santitation, avoidance of intercurrent disease and management problems (such as chilling).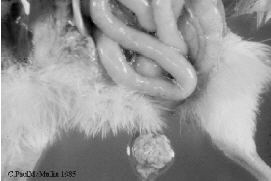 Figure 24. Intestines of a young broiler chick suffering from malabsorption syndrome. They are distended with poorly digested feed. A sample of the faeces produced is shown at the bottom of the picture - poorly digested food enclosed in mucus.
¿Quién Está En Línea?
Patrocinadores
Socios