ThePoultrySite Quick Disease Guide
Contents of Quick Disease Guide
Coccidiosis of Turkeys
Introduction
Infection of turkeys with Eimeria spp. This disease is not very common in commercially reared turkeys though most turkey growers receive preventative medication for at least part of their lives. Five species of Eimeria have been identified that cause lesions in turkeys, of which two are associated with significant disease effects. E. meleagrimitis affects the upper small intestine, while E. adenoides affects the caecae and rectum. E. gallopavonis and E. meleagridis affect the lower small intestine rectum and caecae, while E. dispersa is found in the small intestine.
Signs
Huddling.
Weight loss.
Depression.
Watery diarrhoea that may occasionally be blood stained or contain clumps of mucus or shed mucosa.
Tucked appearance, ruffled feathers.
Post-mortem lesions
The affected area of intestine shows thickening of the wall and dilation. The contents may be haemorrhagic or be watery with white material shed from the mucosa.
Diagnosis
Signs, lesions, microscopic exam of scrapings (oocysts, gamonts). Differentiate from necrotic enteritis.
Treatment
Toltrazuril, Sulphonamides (e.g. Sulphaquinoxaline), Amprolium.
Prevention
The ionophore coccidiostats lasalocid and monensin are routinely used in turkey growers, typically to 12 weeks of age. Diclazuril is also used for this purpose. Dosage levels of ionophores may be critical to efficacy and safety. Exposure of previously unmedicated birds to these compounds can cause toxicity. Salinomycin is toxic for turkeys even at very low doses. Avoid use of tiamulin in ionophore treated birds.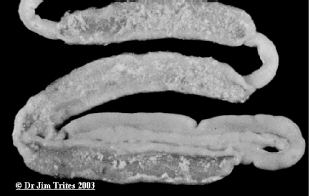 Figure 37. Turkey coccidiosis of the upper small intestine caused by E. meleagrimitis. The intestines are dilated, show some spotty congestion and have abnormal contents due to the sloughed epithelium.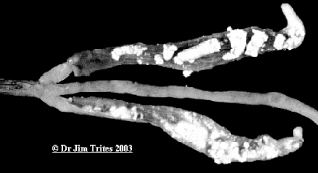 Figure 38. Turkey caecal coccidiosis caused by E. adenoides. The exudate can range from semi-liquid to solid white cores.
¿Quién Está En Línea?
Patrocinadores
Socios