ThePoultrySite Quick Disease Guide
Contents of Quick Disease Guide
Aspergillosis
Introduction
A fungal infectious disease, caused by Aspergillus fumigatus, in which the typical sign is gasping for breath, especially in young chicks. Sometimes the same organism causes eye lesions or chronic lesions in older birds. The fungus can infect plant material and many species of animals including birds and man. Occasionally similar lesions are produced by other species of Aspergillus or even other fungi such as Penicillium, Absidia etc.

It affects chickens, turkeys, ducks, penguins, game birds, waterfowl, etc, worldwide. The infection has an incubation period of 2-5 days. Morbidity is usually low, but may be as high as 12%. Mortality among young affected birds is 5-50%. Transmission is by inhalation exposure to an environment with a high spore count; there is usually little bird-to-bird transmission. Spores are highly resistant to disinfectants.
Signs
Acute form:

Inappetance.
Weakness.
Silent gasping.
Rapid breathing.
Thirst.
Drowsiness.
Nervous signs (rare).

Chronic Forms:

Ocular discharge (ocular form only).
Wasting.
Post-mortem lesions
Yellow to grey nodules or plaques in lungs, air sacs, trachea, plaques in peritoneal cavity, may have greenish surface.
Conjunctivitis/keratitis.
Brain lesions may be seen in some birds with nervous signs.
Diagnosis
This is usually based on the signs and lesions and microscopic examination for the fungus, preferably after digestion in 10% potassium hydroxide. It may be confirmed by isolation of the fungus, typically by putting small pieces of affected tissue on Sabouraud agar. Growth occurs in 24-48 hours and colonies are powdery green/blue in appearance. Differentiate from excessive exposure to formalin or vaccinal reactions in day olds and from heat stress in older birds.
Treatment
Usually none. Environmental spraying with effective antifungal antiseptic may help reduce challenge. Amphotericin B and Nystatin have been used in high-value birds.
Prevention
Dry, good quality litter and feed, hygiene, Thiabendazole or Nystatin has been used in feed.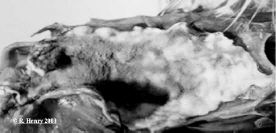 Figure 8. 'Furry' airsacculitis in aspergillosis of an adult duck. The powdery surface is dark green in colour.
¿Quién Está En Línea?
Patrocinadores
Socios